Aria
is an unidentified, seemingly amnesiac young girl, who is believed to be
Athena
's true self. She commands the element of Light.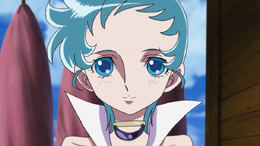 Profile and Stats
Edit
Name: Aria
Origin: Saint Seiya
Alias:
Classification: Demigod
Age: 14-15
Power Grid
Edit
| Status | Level |
| --- | --- |
| Class | |
| Attack Potency | |
| Speed | |
| Lifting Strength | |
| Striking Strength | |
| Durability | |
| Intelligence | |
| Fighting Ability | |
Background
Edit
Physical Appearance
Edit
Aria is a beautiful young woman of below average height. She has a soft and toned voice, short turquoise-blue hair and eyes, pale skin and delicate features. She usually wear a white dress accompanied by an aristocratic design gold torque with a black gem believed to possess qualities of the Darkness Cosmo.
Personality
Edit
Initially, Aria is actually a girl who does not know who she really is or what she wants. Despite having a childhood surrounded by beautiful things, her eyes denote sadness because she has never had access to freedom or true friendship, therefore she was lonely and trapped in a period of isolation. Despite the lies invented by the God of War, she is certain is that she is not Athena, but is handled like a doll by Capricorn Ionia, passing it by the goddess, reaching burst into tears and beg help Pegasus Kouga when "awake" temporarily enchantment by Ionia, thanks to the contact between the Cosmos and the boy (both light).
Saving goodness in her heart, a situation that is evident when she warns Koga flee in the presence of Ionia, knowing that he would never have a chance against him later before Kouga awoken his true power.
Aria is actually shy and does not talk much but when with her friends like Kouga and Yuna, and her confidence in herself begins to grow, she has finally found the value within her heart.
Powers and Abilities
Edit
Light Manipulation:
Equipment
Edit
Aria's Staff:
Relationships
Edit
Friends/Allies
Edit
Background in Other Media
Edit
Battles & Events
Edit
Ad blocker interference detected!
Wikia is a free-to-use site that makes money from advertising. We have a modified experience for viewers using ad blockers

Wikia is not accessible if you've made further modifications. Remove the custom ad blocker rule(s) and the page will load as expected.