Bacchus
is one of the
Four Heavenly Kings of Mars
and can use the element of Water.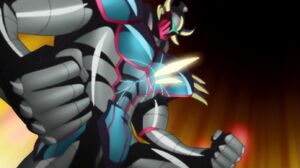 Profile and Stats
Edit
Rank:
Alias:
Background
Edit
Physical Appearance
Edit
He is the tallest and most muscular of the Four Heavenly Kings, with most of his body covered by his Bacchus Galaxy.
Personality
Edit
Like his companions, when he returns to fight, Bacchus does not have a defined personality. It appears to be only one zombie handled by Pisces Amor. His unique personality is also not explored in his brief appearance during the first battle against Mars.
Powers and Abilities
Edit
Water Manipulation:
Expert Hand-to-Hand Combatant:
Immense Strength:
Immense Endurance:
Immense Durability:
Enhanced Speed:
Equipment
Edit
Relationships
Edit
Background in Other Media
Edit
Battles & Events
Edit
Ad blocker interference detected!
Wikia is a free-to-use site that makes money from advertising. We have a modified experience for viewers using ad blockers

Wikia is not accessible if you've made further modifications. Remove the custom ad blocker rule(s) and the page will load as expected.