Deathstroke
, whose public identity is
Rex Wilson
, is the world's greatest assassin/mercenary and the right-handed man of
M. Bison
, as well as a member of 
Shadaloo
.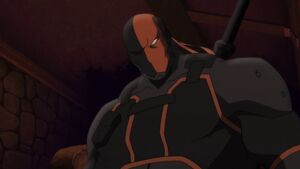 Profile and Stats
Edit
Name: Rex Wilson
Alias: Deathstroke
Age: Late 50's
Physical Appearance
Edit
Personality
Edit
Early Life
Edit
Powers and Abilities
Edit
Unique Physiology: Due to a military enhancement procedure, Rex Wilson's physiology was changed permanently. First, the procedure crippled his mind and body. Then, the experiment rebuilt his physical and mental faculties further than a human could process or build. These enhancements make Deathstroke a superhumanly enhanced human.
Enhanced Intellect:
Enhanced Strength:
Enhanced Speed:
Enhanced Reflexes:
Enhanced Endurance:
Enhanced Durability:
Enhanced Senses:
Accelerated Healing:

Enhanced Immunity:
Decelerated Aging:
Master Martial Artist:
Master Swordsman Specialist:
Expert Marksman Specialist:
Demolitions Expert:
Master of Stealth:
Expert Tracker and Hunter:
Master Strategist and Tactician:
Equipment
Edit
Deathstroke's Armor:
Promethium Sword:
Ballistic Staff:
Various Firearms:
Various Explosives:
Relationships
Edit
Background in Other Media
Edit
Battles & Events
Edit
Ad blocker interference detected!
Wikia is a free-to-use site that makes money from advertising. We have a modified experience for viewers using ad blockers

Wikia is not accessible if you've made further modifications. Remove the custom ad blocker rule(s) and the page will load as expected.