Diana
is one of the
Four Heavenly Kings
(Queen, in her case) of Mars, and can use the elements of Wind and Lightning.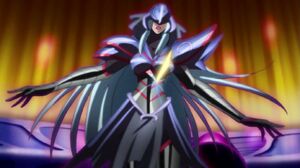 Profile and Stats
Edit
Rank:
Alias:
Background
Edit
Physical Appearance
Edit
Diana is a tall, muscular female Martian who has purple lips and long cyan hair falling out of her helmet, with the lower portion of her face shown, while the rest of her body is covered by her Diana Galaxy.
Personality
Edit
Like his companions, Diana does not have a defined personality, or any remnant of conscience, so it was shown. She's just a zombie handled by Pisces Amor after resurrecting her. Even before being sealed by Athena, Diana's personality has not been explored.
Powers and Abilities
Edit
Wind Manipulation:
Lightning Manipulation:
Expert Hand-to-Hand Combatant:
Expert Archer Specialist:
Enhanced Strength:
Enhanced Speed:
Enhanced Endurance:
Enhanced Durability:
Techniques
Edit
Lightning Rage: Diana absorbs rays of electricity to create a single powerful lightning fired from her bow.
Equipment
Edit
Diana Arch: The main weapon of Diana, one of the Four Heavenly Kings, consists of energy so Diana can create blue arrows on the edges is likely embellishments that make allusion to nature that is related to the character underlying mythological character.
Relationships
Edit
Background in Other Media
Edit
Battles & Events
Edit