Juvia Lockser
 is a 
Mage
 of the 
Fairy Tail Guild
, formerly being one of the five S-Class Mages of the Phantom Lord Guild. She is also the love interest of
Gray Fullbuster
.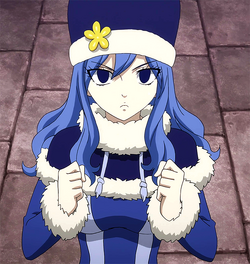 Profile and Stats
Edit
Name: Juvia Lockser
Origin: Fairy Tail
Alias: Juvia of the Great Sea, Juvia of the Deep
Classification: Human, Mage
Age: 17-18
Physical Appearance
Edit
Juvia is an attractive young woman with blue hair that falls down past her shoulders, dark blue eyes, pale skin, and a slender, curvaceous figure. Her hair is also known to have a fringe that parts on the right, as well as having her bangs sit aloft on her chest. Furthermore, her hair is rather wavy, a trait some call a "deliberate attempt to be the ocean". Nonetheless, there is considerably more to Juvia than simply her hair. For example, her facial structure and features. She is noted to possess a somewhat angular facial structure, with a slightly angular jawline, but round enough to allow her to appear innocent and childlike when not being serious. Juvia's Fairy Tail Guild Stamp is above her left thigh, being blue in color.
Juvia's attire consists of a Russian-styled blue hat, albeit with fur trimmings at the bottom and a yellow flower on it. Furthermore, she generally wears a dark blue poncho with fur lining near her neck and chest over a light-blue, long-sleeved top. Her top is noted for its white fur cuffing at her wrists, along with the two pale-blue straps across her chest that go all the way down to the bottom of her light-blue, ankle-length skirt. At her waist, Juvia is shown wearing a brown belt, which fastens both her skirt and top together. Furthermore, Juvia's skirt is shown to have a slit on both sides, exposing a considerable portion of the said sides, as well as allowing for total maneuverability. To finish off the attire, Juvia wears a pair of thigh-length, dark brown boots.
Personality
Edit
Juvia is a cheerful, kind-hearted, positive, and optimistic individual. She is obsessed with Gray Fullbuster to the point of considering anyone who shows affection towards him a rival and when Meredy threatened him during the Tenrou Island invasion, Juvia loses her calm demeanor and entered a somewhat satanic-appearing state that frightens Meredy and even Erza. Juvia also seems to have a slight masochistic side; upon making a mistake, she asks Gray to spank her as punishment, saying it's her "hobby" while Gray says it isn't his. She's also very polite towards others, typically addressing others with honorifics, though she addresses Gray as "Gray-sama" only. When the situation calls for it, Juvia can be very serious, level-headed and analytical, always staying focused on task at hand, though her emotions can cloud her judgment and impede her choices.
She cares deeply for Fairy Tail and its members. During the Battle of Fairy Tail, Juvia is pitted against Cana Alberona but instead chooses to sacrifice herself by attacking a thunder Lacrima, even though she knows that it will cause her harm. Upon entering Fairy Tail, she wasn't feared or hated for her past relationship with Phantom Lord, and she maintains a good relationship with the other members. She is also shy about her body, as she doesn't like to shower with other girls, much to the chagrin of her female guildmates. Juvia tends to refer to herself in third person in her sentences. Juvia has a wild imagination in which she tends to fabricate relationships and love rivals.
Early Life
Edit
Powers and Abilities
Edit
Expert Hand-to-Hand Combatant: While mostly relying on her Magic, Juvia is highly proficient enough in hand-to-hand combat; she packs strong punches and kicks, coupled with her Magic and speed to gain an edge in battle.
Breathing Underwater: Juvia has the ability to breathe underwater, as seen during the infiltration of the Tower of Heaven with Natsu, Gray and Lucy.
Enhanced Strength: Despite her feminine figure, Juvia shows a certain degree of physical strength: when she punched Meredy through a large rock, it was completely shattered in the process.
Enhanced Speed: Juvia is highly fast and quick in battle, being able to keep up with opponents equal to or above her caliber.
Enhanced Endurance: Juvia's stamina and endurance are high, as she is able to exert herself to fight for long periods of time without rest.
Enhanced Durability: Despite her slender and beautiful appearance, Juvia shows excellent durability in battle.
Great Magic Power: As a former S-Class Mage and one of Phantom Lord's Element Four, Juvia possesses a great deal of magic power. Her power is amplified when she channels her emotions (for example, extreme anger) into a flow of pure strength that enables her to overwhelm foes that are stronger than her, with Erza stating that is "her true power". Her magic color is blue when exerted.
Water: Juvia is an extremely skilled user of Water, which allows her to produce, control, and manipulate water much like that of basic Water Magic. She can use the water in a variety of different ways, such as producing blades of water that can even slice through solid rock and metal, creating boiling beams forming waves of tremendous power and force to damage her opponents, or even trapping opponents in mini-prisons made of her water. Juvia also has the ability to turn into water, seemingly without thought, thus allowing both physical and Magical attacks to pass through her without harming her. Her Magic power is greatly amplified when she is in an emotional state (for example, extreme anger), to the point where she could easily overpower Meredy, one of the Seven Kin of Purgatory.
Unison Raid: Juvia possesses the ability to perform a Unison Raid, which allows two Mages to fuse their Magic together. She performed it with Lucy after the latter summoned Aquarius, allowing them to perform a powerful charging attack. She has also performed it with Gray in the fight against the Dragonoid, causing pillars of water to rise into the air, which freeze and send needles of ice raining down on their opponents.
Shotgun: Utilizing water provided by Juvia in conjunction with their Ice-Make Magic to solidify the water, an Ice Mage aims at the target and releases sharp, thick spears of ice.
Weaknesses
Edit
Using her Water Body makes her more vulnerable to freezing or steam-based attacks.
Relationships
Edit
Unnamed Parents (deceased)
Unnamed Uncle
Friends/Allies
Edit
Background in Other Media
Edit
Battles & Events
Edit